How to find email addresses in bulk?
Just drop a domain list in the blank space above. And then you get the results below. You have the domains, and if you click on one, you get the data: language, location, techs... and email addresses.
Then you can select some email addresses - you can check the source pages - and you click "Export as CSV file" and you can download a CSV file full of email addresses.
findmassleads lets you find email addresses in bulk. This is basically an email database. But not only that, it specializes in technology lookup. So you can also search by technology. But the goal of this page is to help you find email addresses in bulk from a domain list.
First, do you have a list of domain to get the email addresses in bulk from?
It can be a list of domain names. A list of URLs also. You drop in the list and you get the data.
Basically the tool is not free. But you have a free version here. This free email finder gets you email ids, ten by ten, in bulk. This is a free version of the bulk email finder you get as a member of findmassleads.
My name is Roman, I'm the creator of findmassleads. I've built findmassleads as an alternative to BuiltWith or Datanyze.
If you have a very strict budget, I suggest you use this free email finder. But if you want more email addresses in bulk by domain, I suggest you check out the pricing, it's quite cheap.
As a customer, you get an unlimited number of queries each month using the dashboard.
If you want millions of emails, please contact us because we also have an API.
So how does it work?
As a free member in the dashboard, the domain lookup is limited to one domain.
When you are a paid member, when logged in, click on "Search by domain", copy and paste your domain list, you wait for a few minutes, and click "Find leads" and you get the data.
In the paid dashboard, you can copy&paste maybe one thousand domains or two, maybe more. Not much more because this is a web interface. But again, as it is unlimited, you can use it multiple times, as many times as you need in fact.
If you need like tens of thousands, hundreds of thousands or even millions of email addresse, for example if you want to integrate with your B2B prospecting system, please contact us to use the API. It's not the same pricing I have to tell you.
For quite an inexpensive subscription - that you can cancel anytime - you can virtually get an unlimited amount of emails. I have some customers who have downloaded hundreds of thousands of email leads.
So let's describe the results quickly.
You have many data points like the language, location, techs, ranking, tech spent and contact information.
Sometimes you get the email addresses found on the website during our crawling step: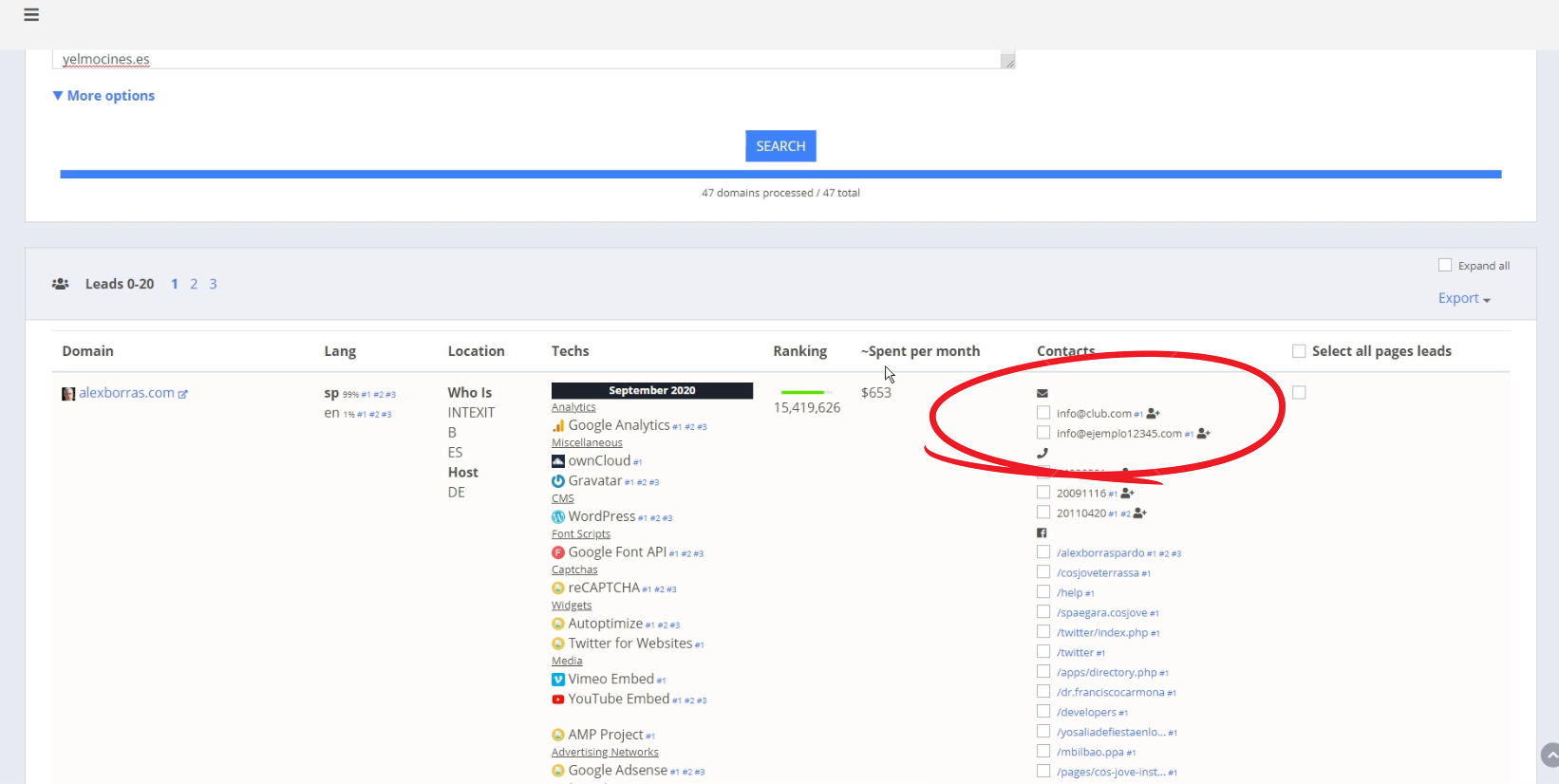 I suggest you check the email address. Maybe you'd like to have email ids with the same domain name. In that case, you'll have to double-check the final CSV file, and eliminate the emails you don't want.
Also you can check the source page. It can be very useful to check the context where the email were found.
Then click "Select all pages leads" and click "Export". You get your CSV file.
It's that simple :)!
A quick note about the filters:
Select carefully the filters: the website language, if you want the website to have email or not... etc.
Especially click on "More options" and by default, the top 20 million is selected by default to avoid low quality websites, to get the best leads!
BUT you might want to choose "Any" as the page rank, so that you get results even for domains that are not in the top 20 million. This is important, ok?
findmassleads, a mass email extractor
Just go to the pricing page. You can take one month of subscription and you get unlimited requests to the findmassleads bulk email extractor.
You can unsubscribe when you want by sending us an email at support@findmassleads.com.
Final word
I hope you have the information you need! If you want to used findmassleads for free, just use this page. You will be able to extract of email ids manually here.
I hope you get a lot of data and find good potential customers for your product or services :)!