How can simple lists of websites could get YOU more revenue?
It's not only domain names lists. You also get the emails, the LinkedIn profiles (if we detect it), the YouTube channel, and so on...
Maybe you are wondering "How could websites lists be USEFUL to me and my business?". That's a good question. I'm gonna give you an answer with a story...
---
It is October 2017. A cloudy day, as usual here in Rennes, France...
I am grinding at the office.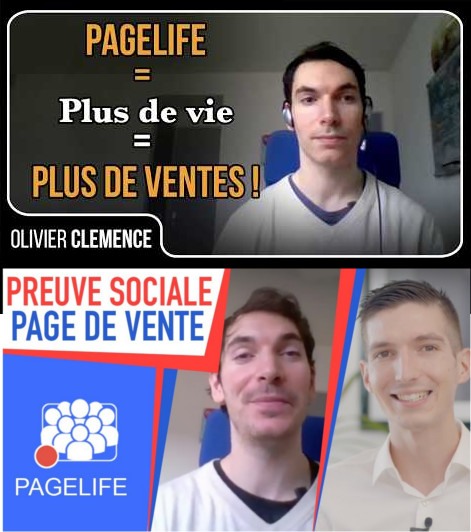 Sure, I found good JV partners searching by hand...
Grinding? Yeah. Me and my team are launching a new SAAS... It's called PageLife and it helps online businesses generate more social proof using past orders and subscriptions.
So I start making a list of potential JV partners. I mean a list of influencers in the infoproduct and ecommerce industry. This is the first customer acquisition strategy!
Is it something you do too? (by the way, if you're just starting, I think it's a great thing to launch quickly! You just have to offer something of value to influencers, for example a free sample of your product or service).
So I type keywords specific to my market - like "infoproduct training" and "ecommerce course" - on YouTube and Google mainly.
After about 2 hours, I get about 30 first names and emails. Or only a YouTube channel sometimes. Then I send them a personnalized message, one by one.
PROBLEM: 30 messages is good, and I got about 10 replies (which is really good!). And finally a few join ventures too. But how to get MORE? Even if it's smaller influencers who have 10K subscribers on YouTube for example? Or a blog with 100 ultra targeted visits a day in my niche? I want them all!
But I could not find them quickly! And it requires A LOT of my time. But maybe the biggest problem is that I didn't have a SYSTEM that automatically generates contacts for the business...
With the right tool, I could have found 1000 influencers contacts!
For example, what if you could have a system able to discover 50 interesting contacts a day, EVERY DAY? ALL THE TIME? A system able to get fresh rising influencers in the field willing to promote your product or service?
That's the part of the puzzle I missed. Having a system in place. That does the work FOR YOU.
I was really tired of sending cold messages every day by hand using my scary Google Sheet. It was too slow. And I was just delaying the task every day more and more...
But wait, there's more...
We are on December 25th 2017. Christmas time. Family time... Yes this is what it's supposed to be...
But I have to reach my goal: send 50 emails a day to potential customers. Otherwise the business is not going to stay afloat... And that perspective gives me stomach pain.
It's HORRIBLE. I have to spend time finding online stores (emails or Facebook), personnalizing the cold message a bit, sending it and updating the sheet... Instead of enjoying not-so-frequent family time in the room next to me...
I even left some messages on Intercom chats...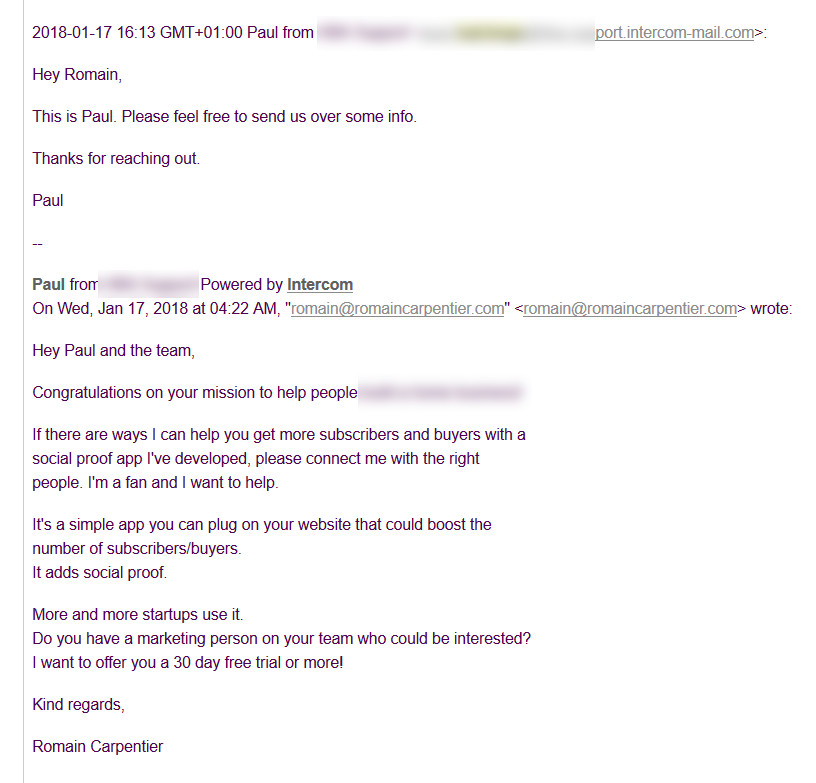 ... and it works!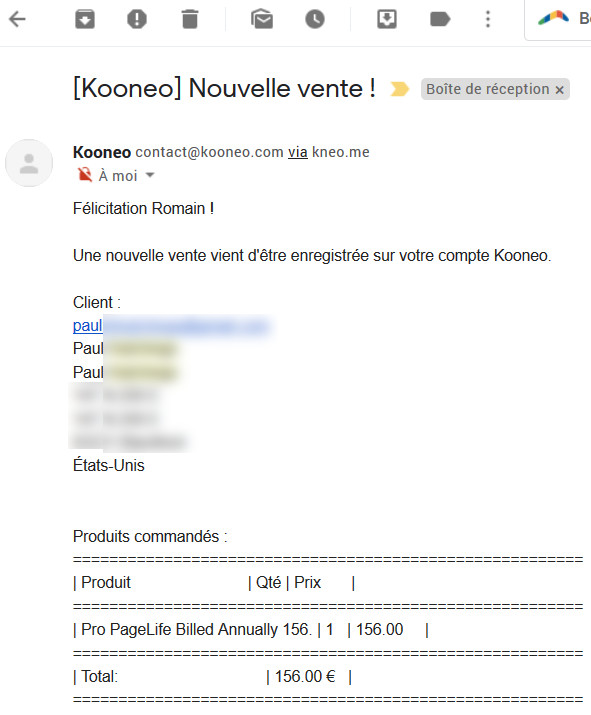 More on how to automate your cold outreach on this page...
Again, I did not understand that... it was not the best use of my time! And maybe it is the case for you too.
(you can read the end of the story on the dashboard. Simply enter your email on top to start your free trial now.)
Stay with me because I'm going to tell you the harsh lesson I had to learn. Do you want to know what the point of this story is?
The point is:
While smart companies leverage BIG DATA to get a steady flow of new customers, others do it by hand and struggle...
And maybe you are one of the latter, like I was.
Let me tell you this: if you keep doing it, you won't be able to break the glass ceiling.
Your revenue will hit a plateau soon because it's too time consuming to find, filter and prepare new contacts by hand. And willpower consuming too!
Either YOU HAVE the data. Either you don't.
It costs between 25 000 and 50 000$ a year to hire a sales rep to set appointments through emails. But using findmassleads to feed an autoresponder, you can put your outreach on autopilot!
For each of your acquisition channel, you have to rely on a system as much as possible. On a machine you feed with data that does most of the grunt work for you.
What if you could have a cold outreach machine that generates contacts with good leads, for you, automatically?
And then focus your effort and energy on making the sale happen? On closing the deal?
What if you could get a steady torrent of targeted contacts in your business EVERY DAY?
Imagine, you have a system in place. It runs by itself:
✔ You feed it once in a while with thousands of good contacts and as personnalized as possible messages,
✔ It sends messages by itself to engage the conversation with potential customers (more on this below),
✔ It predictively generates X sales per day or month, depending on your goal, your conversion rate and sales cycle.
✔ It runs every SINGLE day with little maintenance for months!
How do you feel when you have such a system in place? More peace of mind? More time to spend on things that matter?
Where would you spend your time on?
Now you may be wondering: "How could I USE all that data to generate sales, or at least start conversations with potential customers?"...
That's a good question. Let's talk about practical solutions you can setup right now >>